Cardigan season is open!
It's my favourite time of the year. The fleeting crisp bite of morning, and the cool nip of evening that heralds the change of seasons. Queen of the seasonal transition - cardigans were made for this. It's their time to shine. So without further ado, I declare cardi season officially open!
We've collated 10 of the best* cardigan patterns and matched them with the choicest of MaaiDesign fabrics to help get you ready for autumn. 
*in my humble opinion ;)
1. Jaimie Cardigan - Ready to Sew
This new to the block number is receiving rave reviews on insta and what's not to love? Modern, casual, slouchy. The simple lines allow the fabric to be the showpiece. Sew this up in a french terry jersey in a solid colour to complement your wardrobe, and feel like you're being gently hugged by a blanket. Or let the beautifully textured Meet the Maker organic cotton/wool make for a stunning casual-yet-chic statement whilst wearing cozy secret pyjamas!
Pattern available from The Fold Line
Fabric recommendations: choose from a cozy winter knit, french terry, brushed cotton, sweater knits with matching ribbing.
2. Maple Cardigan - Peach Patterns
The soft folds of the waterfall cardigan make it one of the most reached for layers in my wardrobe. Soft, functional, and beautiful. The Maple Cardigan is no exception - even better, it has INSEAM POCKETS! Try a heavy bamboo jersey for a lightly structured cascade, or a t-shirt knit jersey for that manicured rumpled look. There is an alternative band finish as well (complete with tutorial for that extra professional finish) in case you prefer more of a sleek silhouette. Have a look at the #peachpatterns #maplecardigan hashtags on instagram for even more inspiration.  
Pattern available from Peach Patterns
Fabric recommendations: heavy or lighter weight bamboo jersey knit, or a Cosy Winter Knit for drape and warmth
3. The Juniper Cardigan - Jennifer Lauren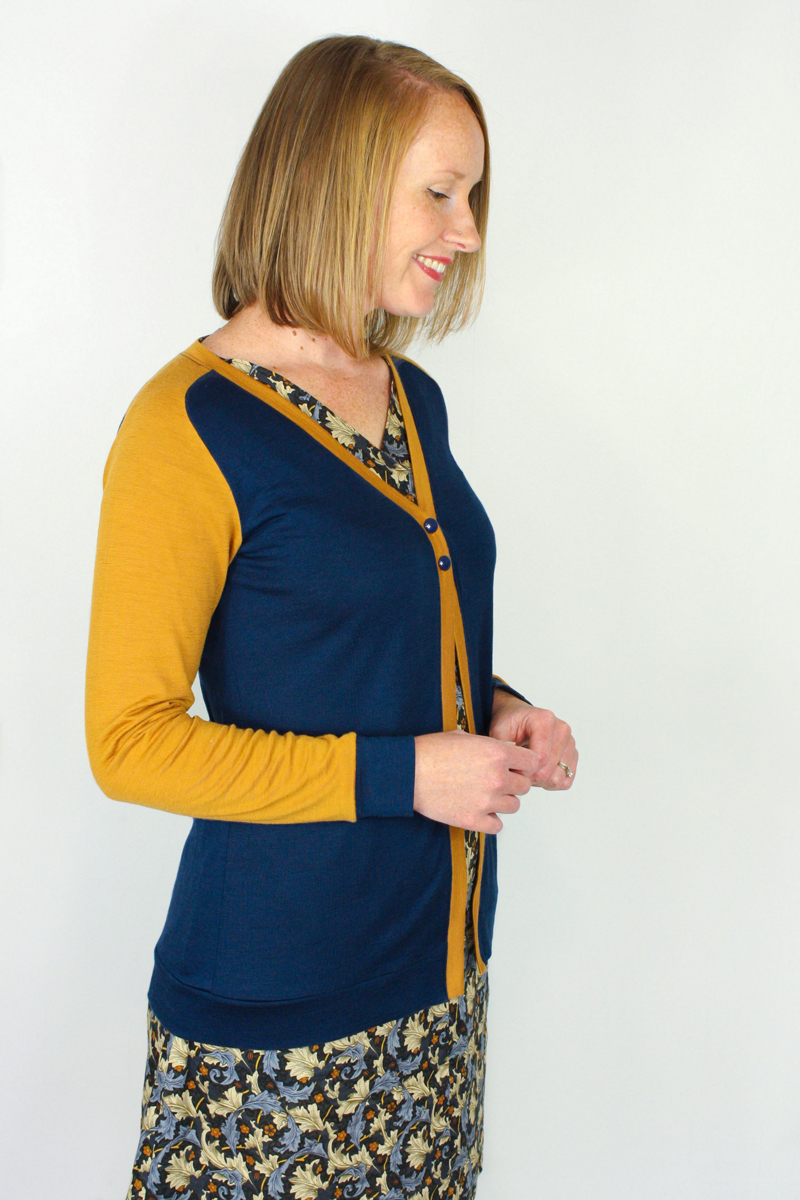 Fancy something bold? A little bit vintage? The distinctive shoulder design makes this cardigan a prime candidate for colour-blocking and playing with contrasting or complementary fabrics. Use a combination of a large feature print and smaller detailed counterpart from across the coordinating See You At Six collection for playful yet harmonious details. Or go boldly monochomatic for contrast like this picture! Cropped, long, 3/4 sleeves or full length, the hardest aspect of this cardigan is making decisions! 
Pattern available from Jennifer Lauren Handmade
Fabric recommendations: we've made this garment in a heavy bamboo jersey and a merino jersey - both are devine! There's a whole blog post dedicated to picking the right knit for this cardi. Check out what Jenn has to say here.
4. Marlo Sweater - True Bais
The Marlo pattern is an oversized sweater with a dropped shoulder, deep V-neck, wide bands and large buttons. You can make it cropped or long with patch pockets and it comes in lots of sizes! 
Fabric recommendations: cosy winter knit, brushed sweater knits.
5. Castillo Cardigan - Itch to Stitch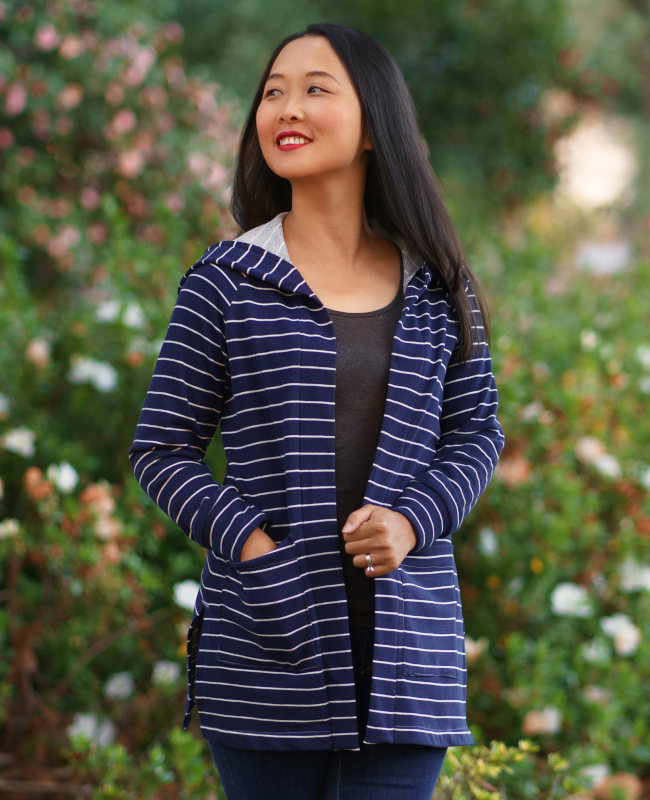 The Castillo Cardigan is a super quick sew, with simple construction and no fastenings. The hood makes for a cozy long line cardi with a relaxed 'ath-leisure' feel. Sew it up in an afternoon and then swan around in your new creation! Perfect for evening walks this is another one for the #secretpajamas club. 
Patten available from Itch to Stitch
Fabric recommendations: keep in mind that when choosing fabrics the reverse side of the fabric will be on display in the hood. Again our french terry or brushed sweater knits and matching ribbing are perfect here.
6. Fall in Love Cardigan - Sew to Grow
Simple, chic and sinched in at the waist. The effortless 'put together' look of our favourite Aussie/Texan is epitomised in the Fall in Love Cardigan. The wider-than-usual finished band lends a polished finish to what would be an otherwise simple long line cardigan. Make it yours and play with prints as in the picture, strategically place colour to create a two-tone effect, or go understated with texture. 
Pattern available from Sew to Grow
Fabric recommendations: Because this cardigan is a close fitting piece, avoid fabrics with a high loft, such as french terry. Try a medium-lightweight jersey particularly cotton knits, bamboo jersey or low pile sweater knits. 
7. Leslie Cardigan - DG Patterns
Long modern lines make for a seasonal layer of effortless style. The cocoon style shaping creates a beautiful silhouette and the extra generous length will keep you warm. Beginner friendly, use a jersey knit with interesting texture or a printed design to bring this piece to life. (Avoid the faux pas of a solid wall of colour!) Perfectly paired with the cross-seasonal favourites; jeans and coffee. 
Pattern available from DG Patterns
Fabric recommendations: Surround yourself in bamboo jersey or sweater knit.
8. Fuller Cardigan - Cashmerette
Beloved for their plus size and curve friendly patterns, the Fuller Cardigan is a wardrobe staple. The full bicep pattern pieces are an absolute game changer for my best friend. The pattern comes with two choices of style; fitted and cropped or a more relaxed with a longer length ¿Por qué no los dos?(Why not have both?) This cardi would look stunning in a maroon brushed sweater knit, mallard green or deep eggplant french terry. How do you choose? We will take one in every colour please!
Pattern available from Cashmerette
Fabric recommendations: make up this classic piece in a cozy winter knit, or a beautiful bamboo jersey.
9. Fjord Cardi - Papercut Patterns
If funky lines and pockets are your jam then this cardi is for you! The side panel cleverly incorporates the pocket into the design of the garment for optimal pocket angle. (No awkward hands buried in patch pockets here!) I'm totally smitten. This pattern will be hitting my cutting mat in short order!
Pattern available from Papercut Patterns
Fabric recommendations: To keep the design details crisp use a medium-heavy weight knit like our french terry or brushed sweater knit. 
10. Blackwood Cardigan - Helen's Closet
Helen's Closet

Recommended fabrics: This garment is a haven of coziness, so we suggest using a french terry, brushed sweater knit or even a cozy winter knit as fabric options. 

 

 

*free* Slouchy girls cardigan tutorial - Craftiness is Not Optional
Not to be forgotten, the little people in our lives need seasonal layers too! What's cuter than little Sadie (although she's a bit bigger now!) in a mini me cardi of her own? This tutorial by Craftiness Is Not Optional is free and perfect for indulging in some of the gorgeous new See You At Six french terry prints or sample the myriad of solid colours available in cotton jersey. Sew this one up in an afternoon. But be warned... they will be asking for more in every colour!
Tutorial available from Craftiness Is Not Optional
Fabric recommendations: light weight knits with a little structure such as french terry, cotton jersey or for a toasty warm cardi try cozy winter knit.
Happy Autumnal Sewing - don't forget to tag your makes on instagram with @MaaiDesign so that we can see your fantastic projects!