Well that was a sudden drop in temperature! The freezing (read below 20 degrees in Aus) temperatures have sent us into the back of our wardrobes reaching for the most comfortable and warm layers. Sweaters, jumpers, hoodies - whatever you call them - become our go to outer layer for venturing outside or curling up on the couch. If you're anything like me you've worn through last year's sweater from love. We've paired 12 fun sweater designs with MaaiDesign winter fabrics to keep you toasty warm!
BEAUTIFUL BASICS 
These patterns are some of the most popular patterns in the sewing community. Beloved for their simplicity, excellent drafting, and great instructions for beginners. This collection of sweaters are the backbone of your winter wardrobe.
To feel fabulous and warm, sew one of these up in a brushed sweater knit or a french terry.
Toaster Sweater #1 // by Sew House Seven
This basic will keep your neck warm without being reminded of the 90s skivvy. Raglan with a loose turtle neck and close-fitting, semi cropped shape - the Toaster Sweater lives up to its name without that claustrophobic feeling. 
Purchase the Toaster Sweater here.  
For more inspiration check out the hashtag #toastersweater on Instagram.
Neige Sweatshirt // by Deer and Doe
With a drop sleeve and wider neckline, the subtle focus of this jumper is the beautifully shaped sleeve. My favourite rendition by Zoubi Zoubisou uses contrast ribbing and adds piping to the split sleeve construction!
Purchase the Neige Sweatshirt here.
For more inspiration head to the official Deer & Doe blog here.
LB Pullover // by Paper Theory
This pattern is designed so you can sew it with almost any fabric, both knit and woven, therefore giving you loads of options. This could be one of those patterns that you sew over and over again.
Jarrah (view A) // by Megan Nielsen Patterns
This is the quintessential drop sleeve jumper, ubiquitous with Australian lounge wear and comfort. Trust me when I say that this will be the one you reach for time and again when you just want to relax. 
Click through to purchase the pattern here.
For more inspiration check out the hashtag #jarrahsweater on Instagram.
Page Hoodie // by Chalk & Notch
Who doesn't love a hoodie? This is an easy to sew pattern, perfect for any brushed sweater knit or french terry.
Purchase the pattern here.
For more inspiration check out the hashtag #pagehoodie on Instagram.
Ziggy Zipper Hoodie // by Wardrobe by Me
Clothe your teen, yourself and your significant other in this awesome wardrobe (by me - pun intended) staple! The pattern size range means that you can almost sew one for your whole household, but what I appreciate most about this pattern is that the grading matches standard zipper sizes. There's even a free  YouTube tutorial to help with construction. 
Purchase the pattern here.
Finlayson // by Thread Theory
Thread Theory is know for their sewing patterns for men. This one features a jumper with a collar, or a hood option. 
Find the pattern here.
FOCUS ON THE DETAILS
Step it up a notch with some sweet details and personality. Each one of these designs features just a little something extra that says, "Why yes - I am just a little bit sophisticated." For a subtle/chic look, use a solid colour for that effortless understated look, or play with colours and prints to bring out your personality. 
Defeat winter blues with fabulous colour using sweater knits or french terry. Knock it out of the park by pairing See You At Six prints with their solid co-ordinates to show off those details.
Mile End Sweatshirt // by Closet Core Patterns
This sweater manages to balance chic and slouchy! What elevates this jumper from ho-hum to hey-yeah is the unique tie feature that draws in the hem and keeps out the draft. 
Purchase the Mile End Sweatshirt here.
Jarrah (view C) // by Megan Nielson Patterns
Casual, cozy and warm with a feminine twist. The Jarrah view C has a slim silhouette for a jumper and the knotted hem feature is just sweet. 
Click through to purchase the pattern here.
Hug Hoodie // by Made It Patterns
The Hug Hoodie is the perfect loungewear for curling up on the couch with a cup of warm chai and your favourite movie or book. The curved, crossover hem lifts this sweater out of the realms of 'vanilla' and still manages to keep things casual. The pattern is also available in teens and kids sizes. 
Purchase the pattern here.
For more inspiration check out the hastag #hughoodie on Instagram.
COLOUR-BLOCK STARS
Part workhorse, part show pony! These designs play colour off colour as they sing out for your attention, and yet when made with a warm winter knit, will keep you as snug as a bug! We suggest choosing solid knits for the most striking combination. Be prepared for compliments from strangers!
Arlo Track Jacket // by The Friday Pattern Company
Is it just me or does this photo make you think, "Damn - I wish had her hair jacket!" The Arlo Track Jacket is a colour blockers dream. I recommend printing off multiple copies of the technical croquis (the b&w pen illustration) and playing with colour combinations till you've found your favourite combination. 
Purchase the pattern here.
For more inspiration check out the hashtag #arlotrackjacket on Instagram
Gemma Sweater // by Named Clothing
Funk, spunk and 80's sass. I LOVE the bold white and yellow contrast of the original cover design. Have a close look at the style lines and before you shy away from trying your hand at matching up those points, keep the following tips in mind: 
Basting seams is an excellent way to ensure perfect point matching.
Pressing seams from behind will avoid shiny spots on the front of your jumper.
There will be a large amount of bulk at some of those pertinent seams and an overlocker may struggle to move smoothly over the points. Consider borrowing techniques from quilters, and press open the seams to reduce bulk (knit fabrics don't fray so it is not necessary to finish the edges) 
Purchase the pattern here.
Elevation Hoodie // by Pattern Niche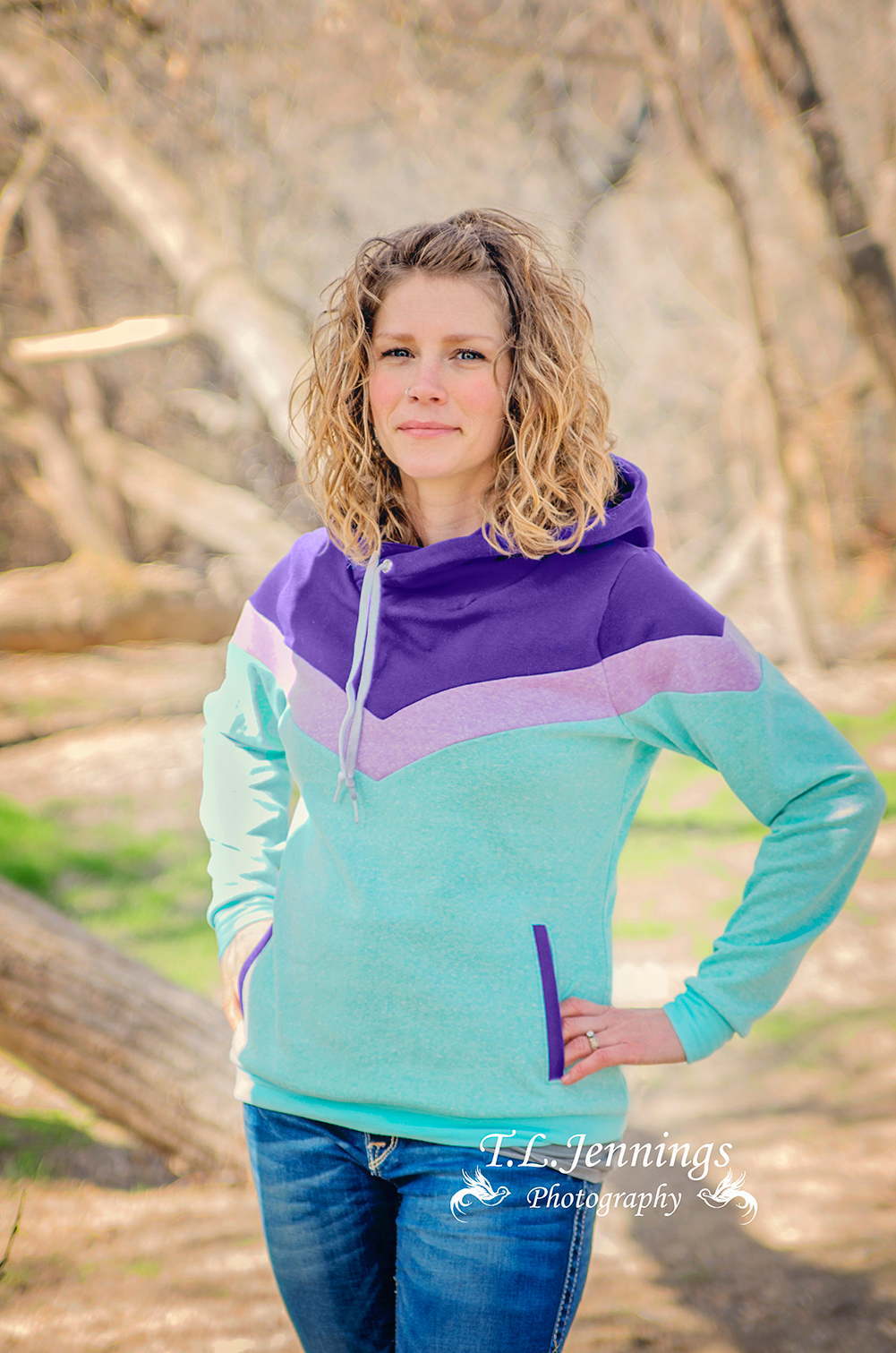 I love the way that this pattern draws the eye down the jumper. With less difficulty than the Gemma Sweater but with equal personality. Another unique feature is the asymmetrical hood! (I actually bought this pattern years ago for exactly this feature and use it on all of my #memade hoodies.)
For more inspiration and to purchase the Elevation Hoodie click here.
Ada Hoody // by Schnittchen patterns 
Reminiscent of popular sports brands, what the Gemma Sweatshirt does across the body, the Ada Hoody does across the sleeves. It's subtle yet cool. The perfect balance of 'not trying too hard' that you longed for in high school. It's also an excellent design for using up those precious leftovers.
Purchase the pattern here. 
For more inspiration check out the hashtag #adahoody on Instagram.
Don't forget to add that finishing touch to your sweater with a stunning KATM or MaaiDesign label in the side seam or kangaroo pocket. It really does make your jumper just that little bit more special. 😉