It's a colour block party! 
It is definitely sweater season and who needs another boring jumper?! - Let's make the most of it and bring colour and warmth to our wardrobes! 
All of these patterns are inherently crying out to use two (or more!) knit fabrics in their construction. Whether you want to play it subtle in tones, or bust out some colour in unexpected ways, these patterns are a blank canvas to express yourself in season. They are also a great way to be responsible with those leftovers from previous projects!
Never colour blocked before? Here are some simple suggestions to get you going. 
Follow nature: top to bottom > light to dark 
Follow the shadows: sides to middle > dark to light
Use the colour wheel: pick complementary or contrasting colours
Find a picture you love and use the same colour palette 
Or use our suggested combinations or make up your own - have fun!
Geodesic Top - Blueprints for Sewing 
Available in bust sizes: 81cm (32") - 147cm (58") from Blueprints for Sewing
Pop it with pockets, or replace one (or all!) of the triangle pieces with any colour that takes your fancy! What about...
Mallard Green + Silver Green Marle + Arctic Blue + Mustard Yellow (pocket pop)
Sue Sweatshirt // Schnittchen Patterns
Available in bust sizes: 82cm - 106cm from Schnittchen Patterns
Re-create the cover model with MaaiDesign winter jersey knits or create your own striking combo. What about this suggestion?
Elevation Hoodie // by Pattern Niche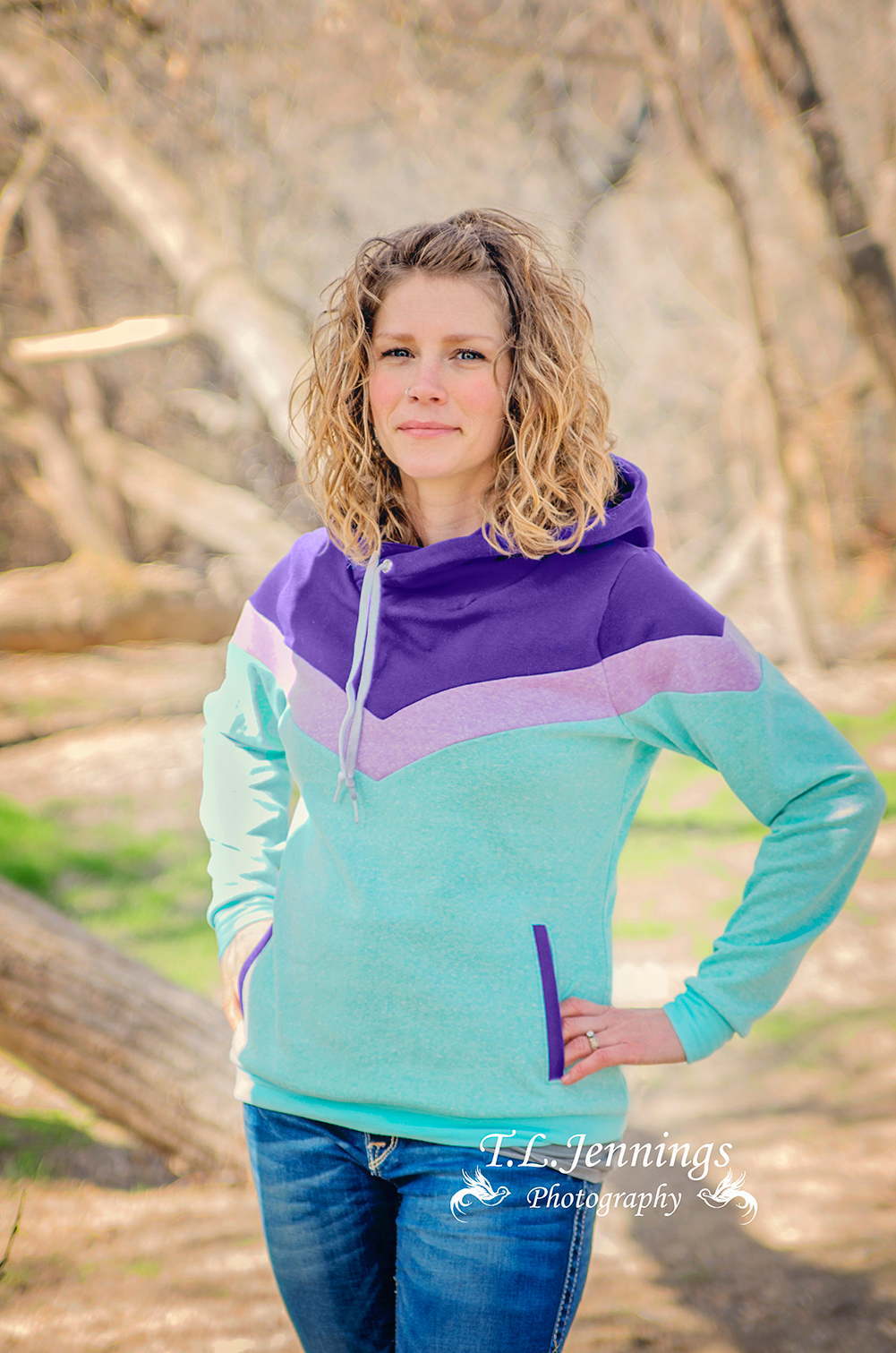 Available in bust sizes: Toddler - 105cm from Pattern Niche
There is endless colour blocking inspiration for this hoodie on the website - but how about you try...
SYAS Treelife + SYAS Glacier Grey + Amber Yellow
Stereo Sweater // Misusu Patterns
Available in bust measurements: 98cm - 142cm from Misusu Patterns
The retro colour combo really suits this jacket. We like this mix:
Mustard Yellow + Old Rose Pink + Bordeaux
Maxine Sweater // Dhurata Davies Patterns 
Available in bust sizes: 76cm - 104cm available from Dhurata Davies Patterns
What panels would you replace? I'm thinking diagonal opposites of...
(Hehe! I just noticed that if you go on to the next design you might have colour deja vu - well they do say that great minds think alike!)
Gemma Sweater // by Named
Available in bust sizes: 76cm - 104cm from Named Clothing
This jumper cries out for a high contrast moody combo - what about a ponte to keep the crisp structure of the jumper, and in these colours?
Lamma Hoodie // Itch to Stitch
Available in bust sizes: 79cm - 152cm with a "full bust" option from Itch to Stitch 
What about trying this pattern in a warm palette. How would you place the following colours? Maybe I'd place the print running down the arms for something a little different.
Noord sweatshirt and t-Shirt // Liesl and Co
Available in bust sizes: 85cm-177cm with A/B, C, D cup sizes from Liesl + Co
How would you rip off the muted neutral tones of the original design? I'm thinking of adding a dash of lipstick...
Bordeaux + Charcoal Marle + Mustard Yellow
Dia Ladies Sweater and Tunic // Misusu Patterns
Available in bust sizes: 86cm- 132cm from Misusu Patterns
This is the perfect scrapbuster! Pick your main colour and then raid your stash for all the sparkly goodness of that diamond! The possibilities are as endless as your scraps bucket.
Ada Hoodie // by Schnittchen Patterns
Available in bust sizes: 82cm - 100cm from Schnitten Patterns
My absolute favourite I saved for last - and how can you improve on perfection?
Bordeaux + Cornflower Blue Marle + Old Rose Pink
We've only just got this colour block party started!
Stay tuned for lighter jersey knits in "colour block party volume II" and the companion scrap-buster "mini block party"!